Production Line for Making Flour Coated Peanuts
This production line is suitable for making flour, sugar, spicy, or honey coated peanuts, consists of peanut roaster, roasted peanut peeling machine, peanut coating machine, particle swing roasting machine, flavoring machine, cooling machine, and granule packing machine.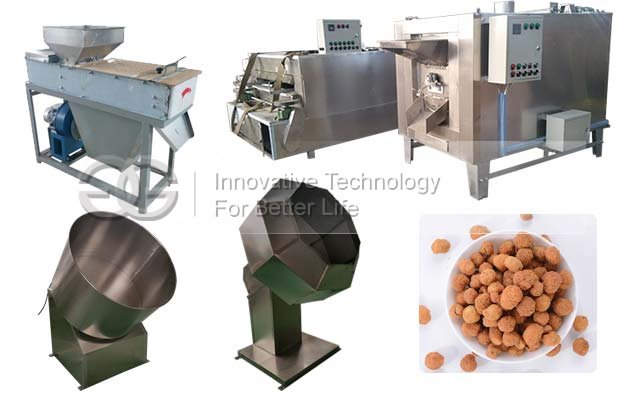 Gas Peanut Roaster Machine: It is mainly used for peanut, cashew nuts, Chinese chestnut, walnut, almond, swallow beans, beans, melon seeds and other granular materials' baking or drying. Gas or electric heating can be custmoized.
Roasted Peanuts Peeling Machine: This machien is used to remove the red skin of the roasted peanut, high peeling rate, less damage to peanuts.
Peanuts Coating Machine: Put the roasted peanut into it and peanut will be combined with flour(or other addition) uniformly.
Coated Peanuts Roasting Machine: Plane rotary mixing style, using stainless steel. Peanut can get uniform heat, high capacity, low broken rate, pollution-free, used for roast
Flavoring Machine: Barrel body is octagon, which can make peanut with the seasoning fully mix evenly in short time, sent out the peanut by tilting itself.
Cooling Machine: It is combined with variable speed drive device, cooling box, cooling fan. Centrifugal cooling fan, electromagnetic speed, high output, no damage, no pollution, good effect.
Granule Packing Machine: Pack the coated peanut with bag, suitable for packing daily chemical articles, popcorn, melon seed, chicken essence, peanut, ritual, non-sticky power and so on.