This
peanut butter production line
process flow and main equipment are roasting oven, peeling machine, choose belt, lifting machine, coarse grinding, mixing tank, pump, mixer, homogenizer, fine grinding machine, vacuum tank, cooling machine, filling machine, etc. Its characteristic is flow operation, high mechanization degree, good reliability, full enclosed production, pollution-free, is the advanced equipment for production stable peanut butter.The butter produced by this line can be 2-60um thickness, the homogeneous ratio can be above 95%. It is the ideal processing equipments to produce peanut butter, sesame soy, soybean paste, etc.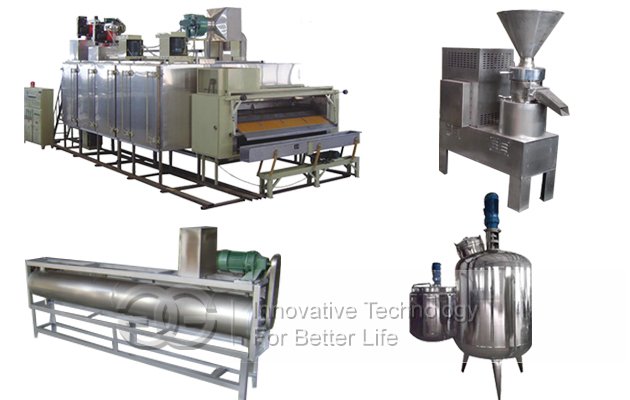 Following are introductions of Peanut Butter Making Machines
2. Cooling belt: Use the fan out of the principle of heat, cooling peanuts after roasted.
3. Peeling machine: Peeling peanuts after drying and baking, red skin and kernel automatically separation in the process of peeling, ensure the quality of the peanut after peeling.
4. Picking line: Select out unqualified some peanuts and food residue.
5. Coarse grinding machine: first grinding peanuts into paste.
6. Fine grinding machine: Grinding peanuts for further fineness after the rough grinding, processing fineness further improved.
7. Cooling machine: Cool the peanut butter after grinding.
8. Degassing tank: Degassing peanut butter before filling.
9. Filling machine: filling and packaging.