Industrial Peanut Butter Processing Line Equipment
Main equipment of peanut butter processing line includes peanut baking oven, peeling machine, choosing belt, lifting machine, peanut butter grinding machine, mixing tank, homogenizer, vacuum degassing tank, cooling machine, filling machine, etc. This line is hot machines in GELGOOG for sale.
Features of Industrial Peanut Butter Processing Line
1. Automatic flow production for peanut butter: This equipment can produce peanut butter from peanut shelling to peanut butter packing, fully automatic.
2. All closed production, which keeps no pollution during processing peanut butter.
3. Ideal equipment for making stable, smooth or crunchy peanut butter.
4. Different production capacity can be customized according to customer requirement, such as 100 kg/h, 200 kg/h, 300 kg/h, 500 kg/h.
Full Peanut Butter Processing Equipment Introduction
1. Peanut baking oven: Used for roasting peanuts, and you can choose gas or electric heating according to requirement.
2. Cooling belt: Use fan to remove hot air and cool roasted peanuts.
3. Rpasted peanut peeling machine: Remove red coat of peanuts after roasting, and the peeled peanuts are automatically separated from peanut skin to ensure good quality of the peeled peanuts.
4. Peanut butter grinding machine: Grind peanut into peanut butter, usually includes coarse grinding and grinding, to ensure the finneness of peanut butter.
5. Cooling machine: Cool peanut butter after grinding.
6. Degassing tank: Remove gas from peanut butter before filling, to extend the storage time of peanut butter.
7. Peanut butter filling machine: Fill peanut butter into bottles, different filling quantity can be adjusted.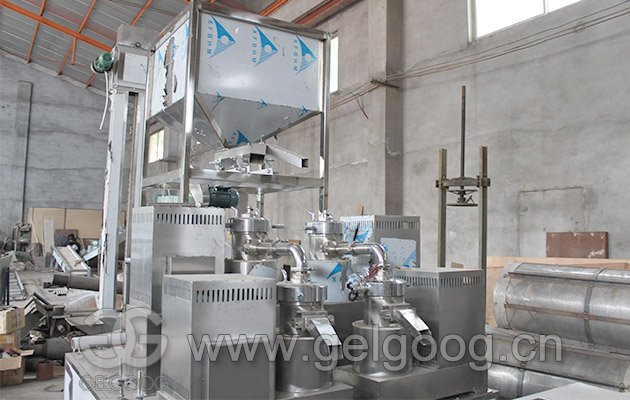 Technical parameters, picture, and price in this website is for your reference only, according to the raw material price fluctuations, you can contact us for specific price details.
Quality Guarantee
One year for quality guarantee, life-long maintenance. Usually 40% deposit in advance, then we can arrange equipment production, pay the balance when finish production and check for no problem.
Delivery time:
Special requirement about peanut butter processing line need to be customized. And the delivery time of this equipment is about 15 working days. Our factory will deliver machine to your receiving place as soon as possible.