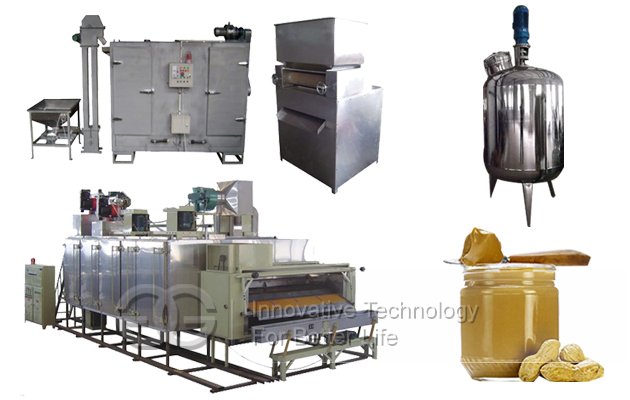 Introduction for Commercial Peanut Butter Production Line
This
peanut butter manufacturing line
was created by guide of your international technology. It is actually consisted of give lift, continuous roaster, conveyor, cooling equipment, decorticating unit, searching conveyor, mincing machines, push, storage space slot, cooling equipment, mixing equipment, vacuum deair, and so forth. It offers great things about substantial automation, simple-functioning included control, steady functionality, substantial item top quality, and many others.

The butter produced by this line can be 2-60um thickness, the homogeneous ratio can be above 95%. It is the ideal processing equipments to produce peanut butter, sesame soy, soybean paste, etc.
1.Roasting: Batch roaster's working temperature is 200-210 ºC, 20-30 minutes. Use batch roaster will bake some delicious smells.
2.Cooling: Peanut will be send cooling belt to cool.
3.Peeling: Put the roasted peanuts into peeler to take off the red skin, the double rollers will frication the red skin, the simple cyclone system will suck the red skins, most of them will be put in half-piece, then fall to the selecting conveyor, the over-roasted andun-blanched peanut kernel is picked up by manual or mechanical.
4.Primary grinding: Using steel grinder to make the first grinding.
5.Second grinding: Using colloid grinder to make the second grinding, the fineness of grinding is controlled below 7μm, temperature of grinding is controlled below 68C.
6.Mixing: Make the butter more homogeneous.
7.Cooling: The butter through second grinding should be cooled immediately. The temperature should go down 45C.
8.Degasser:Take out the air from peanut butter.
9.Torage tank: Settling down in the storage tank till the temperature drop to air temperature.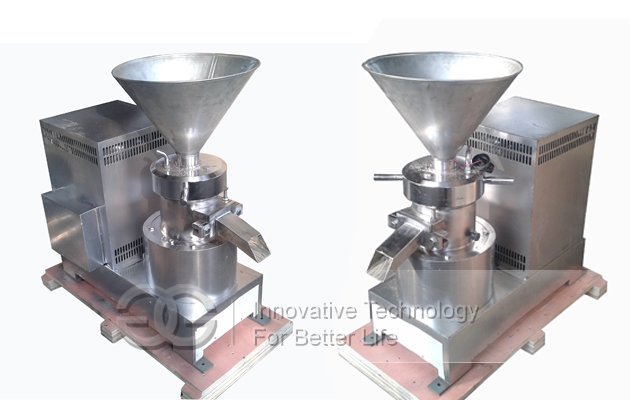 Advantage of Peanut Butter Processing Line
This production line include the peanut roaster, peanut dry peeling machine, automatic feeding machine, grinding machine, vacuum degassing machine, cooling machine and so on. The character is high automation, good reliability, full enclosed production, No pollution, the finished peanut butter has the export standard. The detailed technology and capacity can be customize according to the customer requirements.
This peanut butter production line can produce natural peanut butter, stable peanut butter, smooth type peanut butter, salty peanut butter, sweet peanut butter, particle type peanut butter and so on, it also can produce the tahini and walnut butter, can be equipped with variety of configuration and capacity according to the different customer requirements. In a word, this production line has the advanced technology, stable quality of products. It a best choice for food processing plant.