Full automatic peanut brittle making machine
with air condition is designed for the modern candy bar and cereal bar production. Its progressive technology, reliability, easy operation and flexibility are appreciated by our customers. We can plan, design layout, supply and start-up your complete bar line from the mixing, process, to the packaging.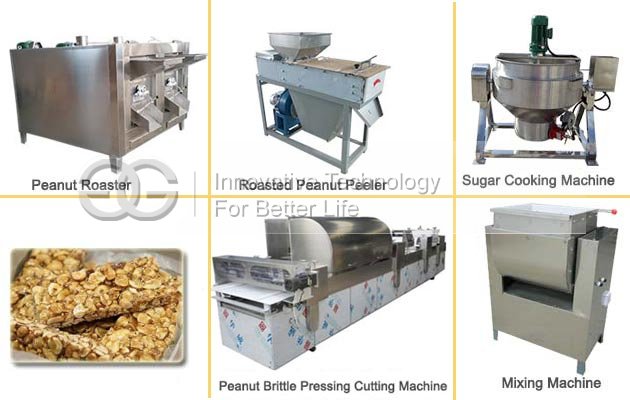 The automatic peanut chikki processing line includes heating, mixing, platen, cutting and packing. It is mainly for peanut brittle, sesame candy, cereal brittle and so on.
1. The production line consists of heating and stirring, reciprocating platen, automatic cuts composition, with simple operation, stir the finished size, weight consistent.
2. Far infrared heating, nonstick sides of casks, Stir Evenly, nonstick pot. Automatic control reciprocating motion, the average level. Automatic dicer, a molding, product size, weight consistent.
3.This line is made up of pressing machine, length cutting machine, breadth cutting machine. The exterior of the machine is made with type 304 stainless steel; it is suitable for automatic forming for swelled candy rice, sachima, nut crisp, peanut brittle etc.
Peanut candy processing machine Flow Chart:
Raw peanut--- Peanut roasting machine---Peanut peeling machine---electric sugar boiler---Mixing machine---Conveyor---Peanut bar cutting machine---Automatic pillow packing machine.