Automatic rice noodle roll steamer machine, also named liangpi machine is designed by our scientific research personnel according to the principle of pho, liangpi, rice noodles production, and the introduction of international advanced technology, developed into a practical new type equipment, completely changed the traditional disadvantages for making rice noodles, liangpi. The equipment is 40 percent less energy efficient than ordinary river noodles roll machine and cooling machine, automatic control and assembly line production, so that all people can achieve the dream of specialization and large-scale production.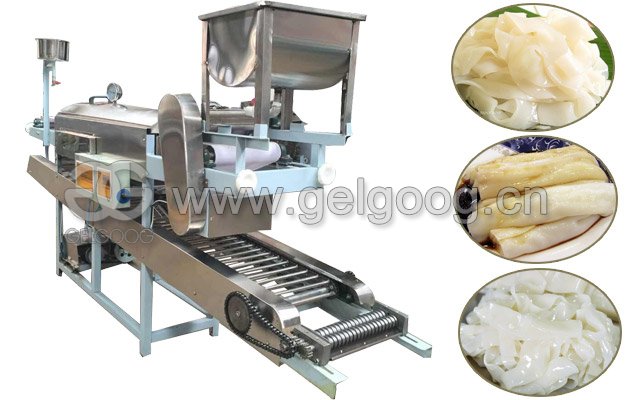 Since the launch of the market, this rice noodle roll steamer machine has sold well across the country and exported to many regions. This equipment adopts high quality stainless steel elaborate, beautiful and durable, functional, instrument control, convenient operation, multi-function direct heat to heat up, computer control, energy-saving health, high production rate, product automatic folding forming, uniform thickness is adjustable, and multi-usage.
Traditional rice noodle production, the process is tedious, the labor intensity is big, the efficiency is low, cannot meet the demand of mass production. After many years of development, our company has successfully made the rice process scientific, mechanized, and introduced the rice without the powder of the direct casting rice noodle making machine, the produced rice noodles have nice taste. Thick, fine, round, flat multiple specifications, single phase three power supply.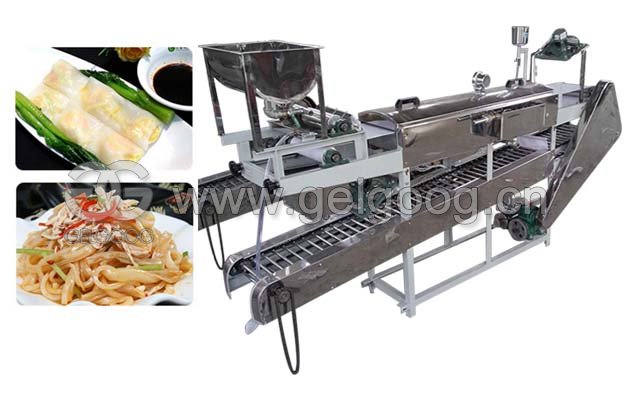 Working Principle of Vietnamese Rice Noodle Roll Steamer
Pho machine work generally is to put grind the rice milk into rice roll making machine, and then through steam inside the pho machine steam box, forming intorice noodles, then cut cooling, into food, fully automated process.