Introduction of Commercial Egg Washing Machine
Commericial egg washing machine, also known as egg cleaning machine, is used to wash fresh duck eggs, egg package ash, mud, washing brine eggs, washing hen eggs, duck eggs, goose eggs, etc), its principle is by means of mechanical, using brush will stain on the surface of the egg wash off.
In order to meet the customers' different demand, and our eggs washing machine uses brush washing type, high cleaning rate, easy to operate, and with high capacity. At the same time, our factory updates performance and appearance, more waterproof seal, streamline cut design, look more perfect.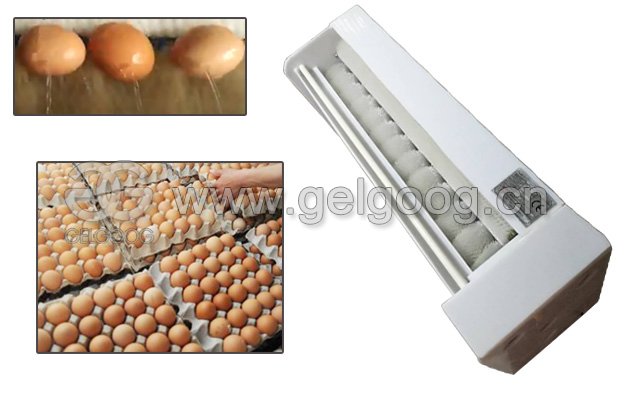 We have three models for choosing:
First egg cleaning machine: Made of high quality nylon brush to wash off the dirt on the surface of eggshell; the brush is lint-free and high wears resistance.
Second egg cleaning machine:uses stainless steel wire ball brush to clean eggs, the steel wire is soft with toughness, no rust, and the bearings on both sides are made water seal, will not leak.
Third egg cleaning machine:adopts professional nylon brush, good elasticity and wearable. It is the most popular equipment for egg washing. It can be customized.
Wet washing: Connecting the machine with water faucet,then the machine can spray automatically.
Dry cleaning: Don't connect machine with water faucet,just use the brush to clean eggs.
Advantage of Commercial Egg Washing Machine
1. Functions: Brush washing type, automatic flip over and spray, friction, water-proof. Apply to wash chicken eggs,duck eggs ,goose eggs and salted eggs, etc.
2.Performance:The unit is equipped with copper motor ,high rotary speed and washing net rate.The structure of whole machine is sealing type; Water spraying type washing; Easy to change brush.
3.Material:
Thickened green plastic shell, abrasion resistant and corrosion stability,
no-heat bilges cold shrink,high quality and not easy to crack;Bearing seal and water-tight;Nylon brushes-no brush dropping,rotating;High abrasion performance Stainless steel bolts and screws are equipped with whole machine.