Introduction of Electric Vegetable Dicer Slicer Machine
This electric vegetable dicer machine is a two-head cutting machine, two ends can work at the same time. Cutting leaf vegetables on the left, cutting bulb melon on the right. Multifuntional shredder,shred silcing dicing machine tubers: Potato,yam head,sweet potatoes,melons,bamboo shoots,onions,eggplant,once cut into pieces,square,rectangular.
This vegetable cutter machine is suitable for potato, yam head, sweet potatoes, melons, bamboo shoots, onion, eggplant, once cut into pieces, square, rectangular. The size of final product can be customized according to the requirements of the customers.
Cutting specifications:
Specification of leaf vegetables cutting: 1~60mm adjustable.Tubes cutting: 1~7mm adjustable. Bulb cutting: minimum 6mm cube (customizable) Bulb cutting: minimum 3mm square wire (customizable)

Features of Electric Vegetable Slicer Machine
1. Multi-usage,high output,cutter disc replacement is convenient, simple operation, convenient cleaning;
2.The equipment can usually match stem vegetable brush type washing machine, peeling machine and other related equipments!
3.The machine is used to cut root vegetables such as potatoes, sweet potatoes, cucumbers, bamboo shoot, onion, eggplant slices, suitable for health food and beverage personnel or food processing plants
4.The machine stops working automatically when the door is opened due to the safety device. There is also an emergency switch to stop the machine for improper operations.
Advantages of Electric Vegetable Dicer Machine
1.Whole machine for Cutting Vegetable Machine is 304 stainless steel
2.you can cut vegetable into different size and shap by replacing cutter blade
3. Cutting Vegetable Machine can directly cut vegetable into dice one time
4. Cutting Vegetable Machine is easy to move with foot wheel
5.life time is more than 10 year for Cutting Vegetable Machine
6.non professional person also can operate Cutting Vegetable Machine
7.Multi function of Cutting Vegetable Machine : shredder dicer,slicer,chips cutting machine
8. SUS 304 construction, meet the highest hygiene standards
9. Multiple Usage By changing the cutter sets, it can cut various kinds of vegetable into cubes, threads, slices, strips, and various shapes.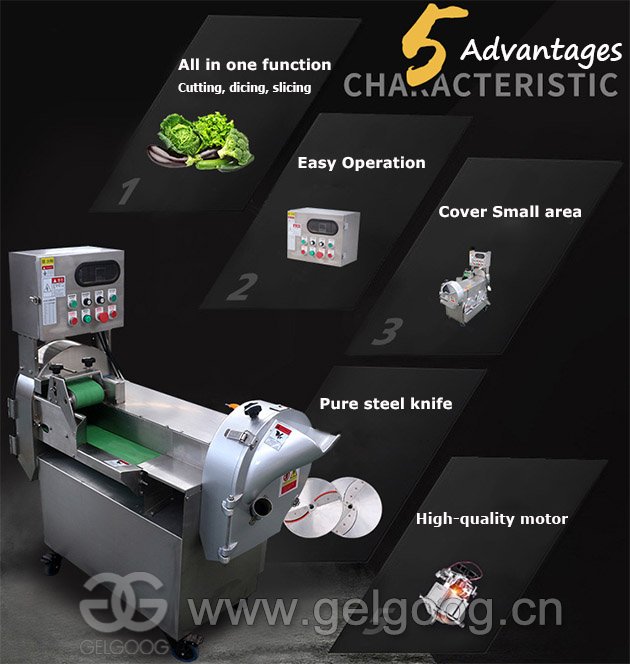 If you want to know the price of electric vegetable dicer cutter machine, you can tell us your requirement, so we can send you suitable machine price and details.