Green Leafy Vegetable Cutting Machine for Restaurant Introduction
Vegetable cutter is improved and developed based on a variety of deficiency found in the field using, stainless steel and the whole structure of rolling bearing, has the beautiful appearance, mature and reliable, convenient use and maintenance, etc. It is suitable for dehydrated, quick-frozen, fresh and pickled vegetables in food industry.

Function of Commercial Green Leafy Vegetable Cutting Machine
The multi-function vegetable cutting machine contains all the functions of the single cutting machine, but also can cut round such as potatoes, radishes and so on. Roots, stems, leaves and other vegetables can be processed into pieces, silk, cubes, strips, curve. The slicing device is used for slicing hard vegetables (turnips, potatoes, fruits and potatoes). The thickness is freely adjusted within 1-10 mm. The reciprocating vertical knife cuts the sliced or soft-dish (leek, celery) into straight or segment, curved line, square ding (or shape knife) conveyor belt, and adjusts the distance between 1-20mm each time. The adjusted amount is the width of the cutting strips. It should be noted that when the diameter of the cut vegetables is relatively large (greater than 30mm), the effect of the piece is good, easy to cut, the diameter of the small pieces or ding will be messy. The processed surface of cut vegetables is smooth, regular and well-organized, keeping the effect of manual cutting.
Application of Leafy Vegetable Cutting Machine
1. Stem and leaf materials such as chives, cilantro, spinach, leeks and leek garlic are segmented and sliced.
2. Cabbage, green red pepper, etc.
3. Slice, cut and standard section of carrot.
4. Aloe vera granule, aloe vera strip. Change the installation Angle of cutting tool and feeding trough for special oblique cutting machine.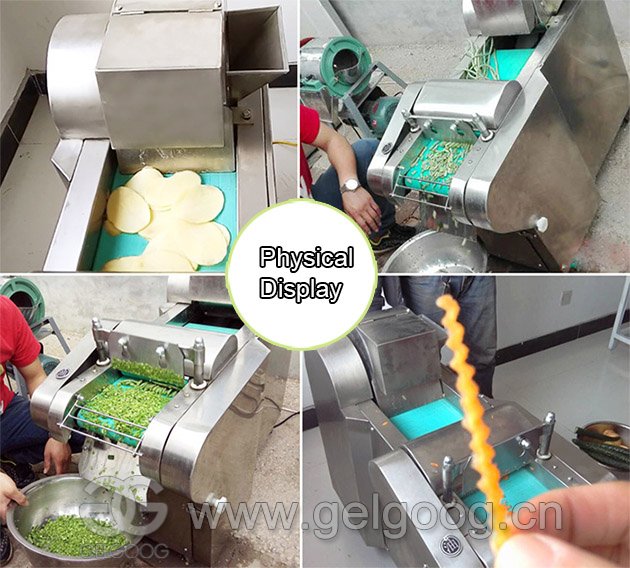 This vegetable cutting machine is ideal cutting equipment for retaurant, hotel, school canteen, vegetable shop, etc.