Features of Vegetable Cutting Machine
This machine can cut vegetables into different shapes, flakiness,filar shape etc.Can be used for leek,chives etc.
It adopts rotary knives pan to cut the materials which has an edge of high efficiency, good cutting quality, and low energy consumption. All the food-contact parts are made by aluminum alloy and stainless steel which strictly meets the sanitary standards of food processing mechanism vegetable cutting machine industrial leaf vegetable spinach cutting machine applies to all kinds of stems leafy vegetables (celery, leeks, spinach, green onions, etc) .and slender hard vegetables (cucumber, carrot,etc) slice. The cutting specifications: 1mm and 3mm two specifications.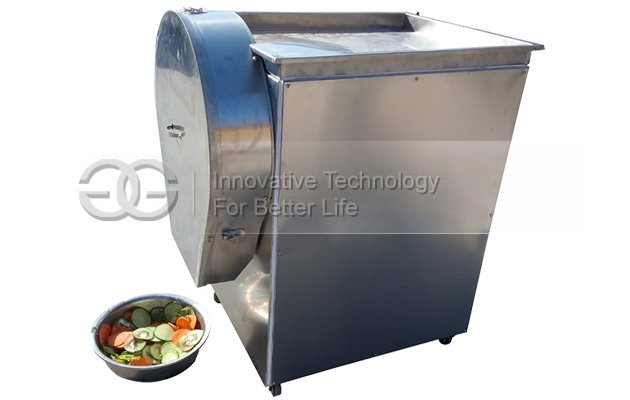 Vegetable cutting machine industrial leaf vegetable spinach cutting machine which adopts the high speed cutting rotary cutter, can cut various vegetables into sections or slices.Stainless Steel Material; The machine can be Customized according to customers' demands;The cutting size is adjustable, matching to the request of the kitchen; restaurant; school; hotel; and the food process factory.
Advantages of Commercial Leaf Vegetable Cutting Machine
1. Easy to operate ;
2. Suitable for many fruits and vegetables ;
3. Very small space required;
4. It has extremely good quality of cutting mainly lie in: cutting the vegetables thickness and length 5.uniformity, sections of fresh, without destroying the fibrous tissue.
6. The vegetable cutting machine has many advantages: high efficiency, easy operation,
7. Low energy consumption, healthy, and safety.
8. It Cut various fruits and vegetables and Can Cut different size ;
9. This machine has the advantages of small occupation area, can be placed on the desktop.
10. It's a rational equipment for pasta processing industry, catering industry to make vegetable stuffing and cut vegetables.
11. The after-sale services of machine can be guaranteed for customers completely;
12. Warranty time:one year