Introduction:
This coconut meat grinding machine is use centrifugal force of band saw rotor to grind coconut meat into tiny particles. The machine with advanced design, the structure is simple, it is suitable for grind of coconut before its juicing.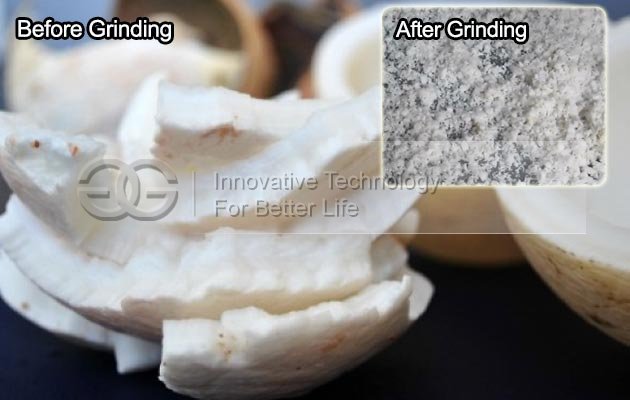 Structure of Coconut Meat Grinder Machine
This machine is composed of the feed hopper, sawtooth type conversion, frame, spindle, bearing block, transmission, the hopper and etc. Parts. When the coconut meat from the feed hopper in the machine, through the tangent screw make coconut meat move to sawtooth type conversion, in the rotation of sawtooth, coconut meat will be grinded to uniform filaments , then move out through the hopper , into the next process.

Working Principle of Coconut Meat Grinding Machine
Feeding by lifting machine into this machine, the material under the high speed rotation of sawtooth type conversion will be cutted to make the material evenly. In order to prevent material under the action of centrifugal force in the rotor and rotor from the sawtooth contact,we especially conversion design into a cone, and in the stator wall and article guide, make the material adequately and sawtooth contact, and the grinding good material advance the hopper.
Advantage of Coconut Meat Grinder Machine
With the force generated by the cone and spirality, the coconut in the grinding chamber was pressed by the teeth-shaped knives which are evenly inlaid in the cone-shaped rotor. The coconut is shredded while the high-speed knives keep cutting, beating and grinding.
1. Small size, big capacity, easy operation.
2. No shaking during working.
3. Low noise, easy washing, endurable.
4. Final mesh size adjustable.