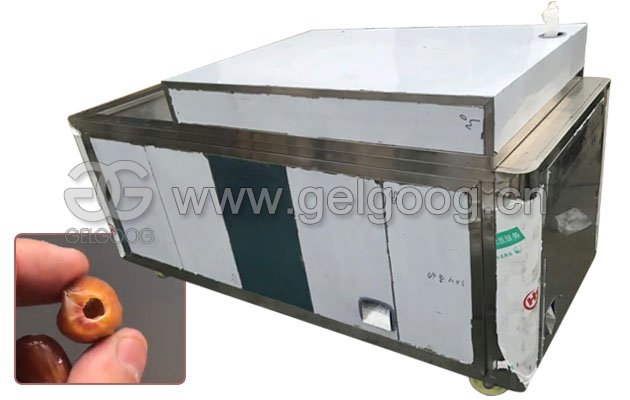 Features of Automatic Palm Date Pitting Machine
(1) Automatic jujube pitting machine adopts the high degree of automation, mould conveyor belt feeding material automatically, the feeding device finish feeding and pitting, just put the palm dates into feeding into hopper can complete nuclear and palm dates separation effect, sustainable non-stop work, completely solve the low efficiency of manual pitting and time-consuming.
(2) Pitting machine adopts 304 stainless steel structure of thick wall pipe and channel steel welding, make more enhance stability in the operation of the device at startup, all parts are used bolts together, make the equipment in operation and maintenance more convenient and quick.
(3) Equipment is made of high quality 304 stainless steel material, fully in line with the health standard for food processing equipment, conveyor belt adopts imported polyurethane material, resistance to abrasion, tensile and tearing resistance, longer service life.
(4) Palm dates pitter machine, simple and convenient operation, don't have to watch for a long time, a person can manage multiple machines at the same time, the transmission system adopts advanced design concept and standard parts, pitting technology adopts stamping pitting principle, make each device conform to the highest standard of design, high accuracy, and thus palm sates pitting effect can reach one hundred percent, and no change the fruit shape.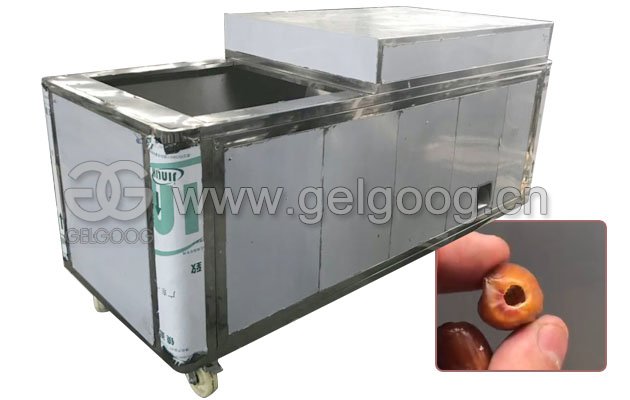 Introduction of Automatic Palm Date Pitter Machine
Combine storage hopper and conveyor belt directly, according to different fruit shape, diameter of the selected template, put the palm dates into the storage hopper, so as to achieve the feeding material, the effect of transmission, palm dates after fall on the conveyor belt will automatically enter the template hole, through brush to push excess palm dates into the other hole, make the fedding efficiency to ninety-five percent or more, greatly improving the work efficiency. Palm dates in the holes continue to push forward with the delivery starting pitting through the machine tool technology, dates stons into row dustpan automatically collect together, and the pitted palm dates continue to the next link, with big hat row bar device make fruit shape completely the same, pitted palm dates automatically fall inside the dustpan outflow collected automatically, so as to achieve the separation of palm dates and nuclear.

Automatic Dates Pitting Machine Video