This industrial onion skin peeling machine is the most advanced large-scale onion processing equipment at home and abroad. It has no special requirements on the size, wetness, and origin of onions, and can realize peeling and cutting onion roots, and stripping clean, cut roots without damage, the onion skin peeler has been widely used in the vegetable processing industry.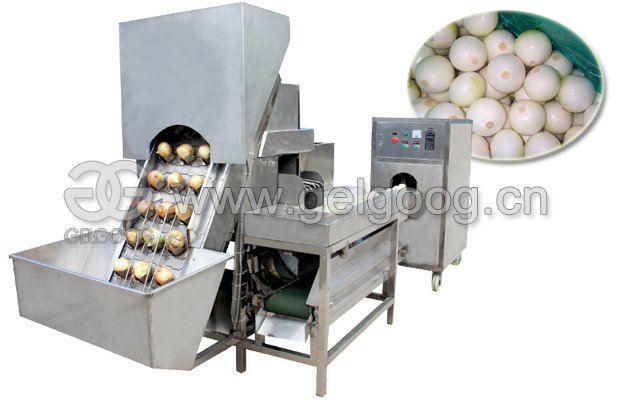 Characteristics of Automatic Onion Peeling Machine
1. The onion does not need to be grading, size, wet and dry degree is not limited in origin, and can be perfectly peeled.
2. Peeling automation, one-time automatic completion and peeling clean, no damage.
3. Freely control the depth of the peeling layer. Only peeling the skin or peeling the second skin can be perfectly achieved. The equipment automatically adjusts the size of the cut root according to the size of the onion, and the yield is high.
4. The equipment is designed with no wearing parts, and the service life is longer, the cost is lower and the efficiency is higher.
5. 304 stainless steel body and shell, more in line with international health standards.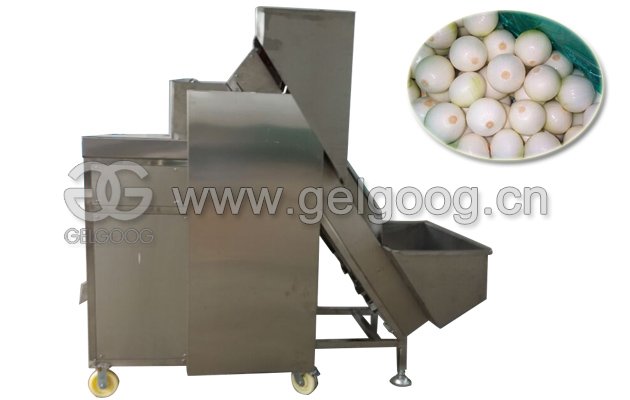 This industrial onion peeler machine has the following special advantages compared with other manufacturers' similar products:
1. This machine is a processing method that does not cut roots, so peeled onions have a small amount of peeling, high yield, and the internal clean and hygienic, no pollution, while other manufacturers will cut the root and then peel the onion will cause the second Sub-pollution and large amount of peeling, low yield.
2. This machine uses no knife to peel, so peeling the onion is not a knife mark, no damage, appearance is perfect. However, other domestic and foreign manufacturers adopt the method of razor blade, because the depth of blade cutting onions is different, resulting in finished products onion surface with knife marks, knife wounds, onion knife wound parts are easy to infect bacteria and difficult to store, easily damaged, this is other equipment difficult to overcome the drawbacks, and the non-tool skin of the device, but also highlights the advanced nature of our equipment, superiority.
3. The cutting root adopts the conveyor belt to work continuously, and the head and tail are cut off once, which is fast and efficient.
4. This onion peeler machine consumes little energy and has a large output. It can strip between 2 and 2.5 tons per hour. This is unique in the current onion peeling machinery industry, and our motor power is only only 3.25KW, and the air compressor discharge pressure is 8 -10MPa, displacement 4-5m3/min. Save energy and reduce costs.
5. This product uses non-standard wear-resistant parts design, conveyor belts, bearings, skeletons, etc. are made of 304 stainless steel, durable, peeling rubber roller is imported materials, high wear resistance. The various cylinders in the equipment belong to the universal standard and are available in air pressure parts stores around the world. Use this machine is lower cost, highest cost performance.