Introduction for
Peanut Butter Production Line
This peanut butter production processing line was designed by reference of the foreign tech. It is consisted of feed elevator, continuous roaster, conveyor, cooling machine, decorticating machine, sorting conveyor, grinding machines, pump, storage slot, cooling machine, mixing machine, vacuum deair, etc. It has advantages of high automation, easy-operating integrated control, stable performance, high product quality, etc.
The butter produced by this line can be 2-60um thickness, the homogeneous ratio can be above 95%. It is the ideal processing equipments to produce peanut butter, sesame soy, soybean paste, etc.
Production process of
Peanut Butter Processing Machine Line
Baking - Cooling - peeling - grinding sauce - mixing - vacuum degassing - Filling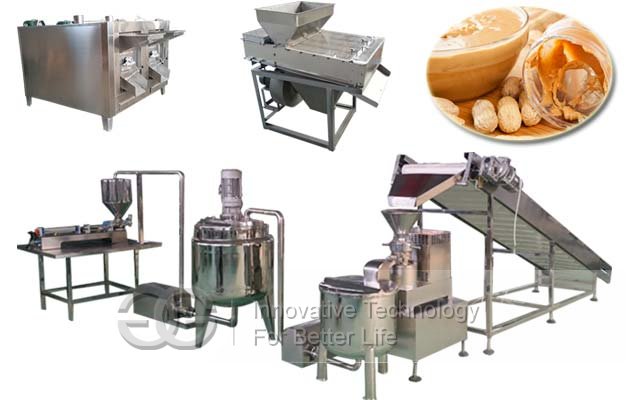 Advantages of
Peanut Butter Making Machine
This production line include the peanut roaster, peanut dry peeling machine,automatic feeding machine,grinding machine,vacuum degassing machine,cooling machine and so on.The character is high automation,good reliability,full enclosed production,No pollution,the finished peanut butter has the export standard.The detailed technology and capacity can be customize according to the customer requirements.
This peanut butter production line can produce natural peanut butter,stable peanut butter,smooth type peanut butter,salty peanut butter,sweet peanut butter,particle type peanut butter and so on,it also can produce the tahini and walnut butter,can be equipped with variety of configuration and capacity according to the different customer requirements.In a word,this production line has the advanced technology,stable quality of products.It a best choice for food processing plant.